I am so happy to be doing my 1st ever giveaway. And what makes me even more happy is that it has to do with pregnancy. I am giving 1 lucky winner a bottle of Perfect Prenatal, by New Chapter.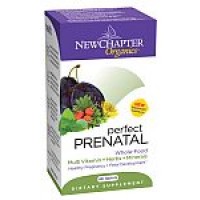 New chapter Prenatal is a whole-food multivitamin; That includes whole-food folate that is specifically formulated to nourish both mother and baby. Taking a daily multivitamin is more like an "insurance policy" that covers the nutritional gaps that are left by a less then optimal diet. Here is direct link for more information on the New Chapter Perfect Prenatal
One thing I do like about this Prenatal while reading over the information I noticed this prenatal can be taken anytime of the day even on an empty stomach. I remember trying to take my prenatals in the morning, and it made my morning sickness worse, tried during lunch and that wasn't any better either. I was only able to take my prenatal right before bed. This can make any momma comfortable about taking their prenatal.
Upon looking over their website their offer all types of supplements for men and women. But also Probiotics, and Therapeutics. Take a look at what New Chapter has to Offer. Also take a look at Best Price Nutrition and see what else they can offer you or a member of your family. You will not be disappointed.
Now on to more about the Giveaway. Again you getting 1 bottle of Perfect Prenatal, By New Chapter. This giveaway is for anyone. You do not have to be pregnant to enter. Remember even if you are Trying to Conceive, starting to take a prenatal daily is recommended my doctors to help in the fertility process. Since this is my 1st giveaway, the entries are low. Good Luck to the winner. Go to the Rafflecopter below to do your entries.